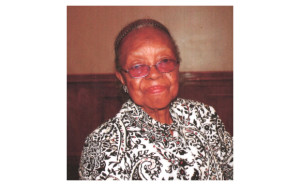 On Sunday, February 7, 2016 at 3 p.m., the Historic Dryborough Association will host a free, special program honoring Mrs. Arabelle B. Bryant, a community stalwart and educator. The event will be held at the New Bern-Craven County Public Library Auditorium. It will highlight her extraordinary life with a photo presentation, music, greetings from the community, and more.
Mrs. Arabelle B. Bryant grew up in Rocky Mount, North Carolina as Arabelle Bulluck. She graduated from Booker T. Washington High School and attended North Carolina College for Negroes (North Carolina Central University) where she received her Bachelor's Degree in Mathematics with a minor in Library Science.  She later did graduate studies at Columbia University and North Carolina Central University, where she received a Master's Degree in Library Science.
In 1944, Arabelle Bulluck became Mrs. Arabelle Mizzell. She and her husband moved to New Bern to teach at West Street High School. He was the band director and she taught mathematics and became the librarian. Sadly, Mr. Mizzell passed away in 1946. In 1949, she married Mr. Harold Bryant and in 1956 she became the librarian at J. T. Barber High School and remained until her retirement in 1980.
She has been a faithful member of Ebenezer Presbyterian Church for over fifty years. As a church leader, she has served as youth advisor, moderator of the Presbyterian Women, treasurer of benevolence, chair of the audit committee, sunday school teacher, senior choir member, and has been an ordained elder for over fifty years.
Mrs. Arabelle is an outstanding community stalwart. She has served on the New Bern-Craven County Public Library Board, Craven County Board of Health, New Bern Housing Authority Board, Craven Community Concert Board, Red Cross Board, Coastal Carolina Chapter of Legacy of Life Board, the Voters League, The Climbers Club, Henderson Park Senior Citizens, The Owlettes, member of the Alpha Kappa Alpha Sorority, Inc. for over fifty years (Golden Soror), New Bern Historical Society, Day Captain for the RCS Soup Kitchen, and in 2013, she became the Vice President of the Historic Dryborough Association representing her church and community.
Mrs. Arabelle has received many honors. In 1978 and 1987, she was recognized as Soror of the Year by the Theta Beta Omega Chapter of Alpha Kappa Alpha Sorority, Inc. In 1995, she received the Distinguished Service Award by the Craven County Voters League. In 1998, she received the Craven County Distinguished Woman Award by the Craven Council of Women for her outstanding record of volunteerism.  Also, in 1998, she received one of the most outstanding awards that can be bestowed on a North Carolina citizen, The North Carolina Governor's Order of The Long Leaf Pine by Governor Hunt. In 2015, she was honored by the Climbers Club for her many years of service to the club and the community.
Mrs. Arabelle has two children, one grandson, and one great granddaughter. She is still at work seeking ways to improve the community. Her latest project was the installation of a historic marker on Queen Street to commemorate the original location of Ebenezer Presbyterian Church on Pasteur Street that was destroyed during the Great Fire of 1922.
We look forward to having you join us as we honor Mrs. Arabelle Bulluck Bryant for her past contributions and her continued service to the community.
For more info, please visit ENCFamilies.org or 252-349-0405.
Submitted by: David French, The Family History Society of Eastern North Carolina