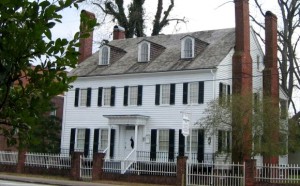 Applications Being Accepted
The New Bern Historical Society Board of Directors is conducting a search for a new Executive Director. The Executive Director is responsible to the President and Board for a full range of activities, from identification of needs/implementation of goals; to supervision of staff and volunteers; liaison with the Society's Board of Directors, its members, the business community, and other non-profit organizations; and many tasks in between.
After seven years, former Executive Director Lynne Harakal will be leaving that position and taking the helm at Swiss Bear. In making the announcement, Society President, Nelson McDaniel said, "After many years of wonderful service to the New Bern Historical Society, our admired and beloved Executive Director, Lynne Harakal, has accepted an invitation to direct another local organization."
The New Bern Historical Society has an active calendar of educational events, lectures, programs and social gatherings. Prominent among these is Ghostwalk and the Spring Historic Homes and Gardens Tour. Our membership has grown to over 700, with hundreds of volunteers contributing to our projects, programs and events each year.
The organization owns and operates the historic 18th c. Attmore-Oliver House and Gardens, home of our administrative offices, and the New Bern Battlefield Park, where the Civil War Battle of New Bern took place.
For information about the Executive Director position, go to NewBernHistorical.org for a complete description and application. Submit the application along with your cover  letter and resume to New Bern Historical Society, Attention: Nelson McDaniel, 511 Broad St., New Bern, NC 28560; or via email, Subject: ED application, attention Nelson McDaniel. The application deadline is February 15.
Submitted by: Kathy Morrison, New Bern Historical Society