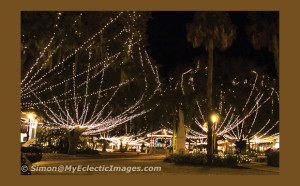 Wishing for a way to enjoy the holiday season minus the stress of endless hours in the kitchen and predictable family drama? Opt for a break from tradition, and pack everyone off to one of these ideal locations.
Charleston, SC
A five-hour drive from New Bern is Charleston, one of the most historic, charming and haunted cities along the east coast.
A boat ride to Fort Sumter, where the first shots of the Civil War were fired, followed by a tour of the Yorktown, a retired World War II aircraft carrier is an ideal family outing.
Shopaholics and kids can spend hours trolling the City Market for fine Gullah crafts, souvenirs and last-minute Christmas presents. Meanwhile those interested in the production of liquid refreshment can take an hour's drive out to Wadmalaw Island, and the Charleston Tea Plantation, the only spot in the United States where Tea is grown. There you can tour the plantation, drink your fill of a variety of hot and iced teas, and purchase your favorites either loose or in teabags.
Looking for something stronger? The island is also home to Irvin House Vineyards and its next door neighbor, Firefly Distillery. Delve into the history of their products, and sample their unique wines and liquors.
Holiday events, ghost tours and some of the best seafood to be found will round out your perfect family holiday.
Savannah/Tybee Island, GA
For a best of both worlds holiday, nothing can compare to a stay on Tybee Island. With vibrant Savannah 20 minutes away, the family can enjoy a quiet respite from the holiday madness in an atmosphere of seaside tranquility.
Hotel Tybee offers rooms with ocean views, where the sound of the waves through your open window will lull you to sleep. The hotel has friendly staff, reliable wi-fi and possibly the most comfortable beds on the planet.
Fort Pulaski and the lighthouse provide opportunities for a little exercise and a lot of Tybee's rich history.
Savannah is the place to find excellent shopping, a maritime museum, a children's museum and fabulous food. For lunch, try Mrs. Wilkes' Dining Room, a staple of Savannah eating long before anyone ever heard of Paula Dean. This family style restaurant serves up true southern fare.
Don't want to leave Fido or Kitty at home? Try the Dunes Inn and Suites, the only pet friendly accommodation on Tybee Island.
St. Augustine, FL
The oldest city in the United States, St. Augustine is a treasure trove of history and holiday celebrations. Embrace the season's cheer and brightness with the Nights of Lights, which will continue through January 31, 2016.
The St. Francis Inn, is the oldest bed & breakfast in St. Augustine. Owners Joe and Margaret Finnegan provide a hearty breakfast, a 5:00 PM social hour and after-dinner dessert as part of the room rate. This southern hospitality on steroids is pet friendly, and encourages interaction with fellow guests.
The Inn is conveniently located in the heart of St. Augustine, and many fine restaurants  and attractions are within walking distance.
Not to be missed is the Lightner Museum featuring the eclectic collections of Otto Lightner, who willed the building complex to the city of St. Augustine. Make sure you are present for the music box demonstration at 11:00 AM or 2:00 PM.
Which ever venue you choose, there will be no shortage of things to see and do. And there will be so much more to talk about than Cousin Dave's Grim Reaper tattoo.
This article was made possible through the generosity of Explore Charleston, Visit Savannah, Visit Tybee, Hotel Tybee, and the St. Francis Inn. However, all opinions, are entirely my own.
By Contributing Author: Penny Zibula, Travel Writer, TwoWriteHands