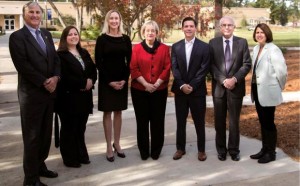 Craven Community College Foundation has welcomed six new members to its volunteer board. New board members include Ashley Martin, Jeff Quinn, Susan Moffat-Thomas, Richard "Dick" Reingold, Anne Schout, and Amy Wang.
"The strength and capacity of a board is determined by the composition and commitment of its members," said Jonathan Segal, foundation president. "So we set out to recruit people from the community who would complement the already-strong foundation board. I am pleased we were able to do that with the new appointments," he added.
"Our newest board members join a very dynamic group of individuals who have a passion for the mission of their community college," stated Judy Eurich, executive director of institutional advancement. "They give of their time, talent and financial resources in support of our students and to advance the programs and initiatives that are offered by the college," she added.
Ashley Martin is client services manager at Raymond James Financial Services. Martin moved to New Bern from California in May 2012 and has declared Craven County her home. She has earned her Series 7 and 66 licenses, several insurance licenses, is currently working on series 24, and will begin her Certified Financial Planner designation once that is complete. Martin received her bachelor's degree in business administration at California State University Stanislaus.
Jeff Quinn, AAI, CRIS, is risk advisor at SIA Stallings Insurance Group. Quinn is a graduate of New Bern High School and Craven Community College. He has a very active business and family life. He and his wife, Holli, have two sons, Trey and Sam, who enjoy the beach, camping and sports.
Susan Moffat-Thomas has been a New Bern resident since 1981. She first worked for the New Bern Chamber of Commerce and the New Bern Preservation Foundation. After 30 years in the position, Moffat-Thomas retired in December 2014 as the executive director of Swiss Bear Development Corporation. She and her husband, John C. Thomas, have four children and nine grandchildren.
Richard "Dick" Reingold was recently appointed as vice president and general manager of WCTI-TV12. Reingold is a career broadcaster with most of his experience at local TV stations. He and his wife, Amy, are happy to be in New Bern. Reingold received his master of business administration from Northwestern University's Kellogg Graduate School of Management.
Anne Schout and her husband, Jim, retired to New Bern in 2011. Schout immediately became active in the community. She serves on several boards including the Historic Downtown Resident's Association and the New Bern Preservation Foundation and is one of the co-chairs of the George Washington Celebration for 2015 and 2016. Prior to retiring, Schout was a chemist, a stay-at-home mom to her daughter, and retail business owner of a fiber arts shop in Charlotte, N.C. She has a chemistry degree from The University of North Carolina at Chapel-Hill.
Amy Wang, attorney, joined Ward and Smith, P.A., in 2004 and leads its Environmental Practice Group. Wang has served on the boards of several New Bern non-profits including the Craven Arts Council and Gallery, Carolina Coastal Classroom, Inc., and the New Bern Heart Society, where she chaired the 2015 New Bern Heart Ball for the American Heart Association. She is also a Craven Community College VIP Ambassador. Wang is a graduate of Wake Forest University School of Law in Winston-Salem, N.C.
Craven Community College Foundation is a 501 (c) 3 non-profit corporation. It was founded in 1977 to provide financial support to the college's students and programs. In support of the mission of Craven Community College, the Foundation offers the community a vehicle for providing financial assistance, promotes self-sufficiency by enabling students with financial needs, facilitates community access to the College's resources, serves as an ambassador for the College to the general public, and enhances the College's education goals.
Founded in 1965, Craven Community College is part of the North Carolina Community College System. With campuses in New Bern and Havelock-Cherry Point, Craven serves about 3,200 curriculum students and more than 10,000 continuing education students each year. The college offers a wide range of associate degree and certificate programs, as well as college transfer courses, career and occupational offerings, partnerships with four-year universities, specialized workforce training options, developmental studies and basic skills classes. Craven Early College High School programs are available on both campuses. Craven is also home to Public Radio East, one of the few community colleges nationally with this distinction. For more information about the college, visit CravenCC.edu.
For more information about the foundation, contact Judy Eurich at 252-638-7351. The Foundation's website can be found at CravenCC.edu/foundation.
For further information contact:
Submitted by: Deborah Kania, Director of Marketing, Communications & Development Liaison, Craven Community College