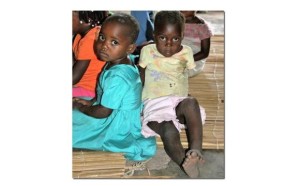 I am very excited to report that Art To End Genocide's project "Making Shoes For Barefoot Children in Mozambique" has moved off the drawing board and into the field. In October, Chris Morgan and I traveled to Mozambique to implement the ATEG plan for creating cottage industries for shoemaking. We began in the capital, Maputo where our project was welcomed into the vocational training facility of Mozarte. In Mozarte, women and disadvantaged youth are being trained to make shoes. Revenue from sales are supporting our program in the rural villages, to teach mothers and caregivers how to make shoes for their barefoot children. For most, this will be their first pair of shoes. For many of these children, protecting their feet from disease may be the difference between life and death.
Chris, myself and our team also traveled to the rural village of Macuane, where we trained our first group of mothers. Not only were they able to provide children with their first pair of shoes, but they also now have the ability to make new shoes for their children as their feet grow. The women felt empowered by what they had done and the children were thrilled to have these beautiful shoes.
This December, our project is competing in the GlobalGiving Year-End Campaign. To be eligible for $10,000 in bonus grants, we must raise $3,000 from 30 individual donors during the month of December, 2015. We hope that you will consider a tax deductible gift in any amount through GlobalGiving, to help the barefoot children in Mozambique. A great day to do it would be on #GivingTuesday, which this year falls on December 1st. Find out more by visiting our Project Page.
Submitted by: Mitch Lewis