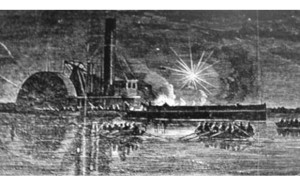 The Confederates Attempt to Recapture New Bern
Lunch & Learn November 11, 2015 at The Chelsea
New Bern fell to Union forces in March 1862. The city was occupied from that point on, but the Confederates did not give up their effort to recapture New Bern. On November 11, 2015, the New Bern Historical Society's Lunch & Learn will present Andrew Duppstadt of the North Carolina Division of State Historic Sites who will discuss the February 1864 Confederate naval expedition that sank the USS Underwriter in the waters around New Bern. This spectacular attack, led by daring commander John Taylor Wood, and involving Confederate naval personnel from all over the South, was the only successful part of a larger attempt to recapture New Bern from Federal forces.
Andrew Duppstadt is the Program Development & Training Officer for the North Carolina Division of State Historic Sites.  He has a BA in history and an MA in public history from the University of North Carolina at Wilmington.  Previously, he has worked at the CSS Neuse State Historic Site, Fort Fisher State Historic Site, Tryon Palace Historic Sites and Gardens, and the Carteret County Historical Society.
Andrew also serves as an Adjunct Instructor of History at UNC-Pembroke, Coastal Carolina Community College, and Craven Community College.  He is a founding member and President of a living history group called the Carolina Living History Guild. He is also a member of the Company of Military Historians and the Southern Historical Association.  Andrew currently lives in Kinston, NC.
Lunch & Learn starts at 11:30 a.m. at the Chelsea Restaurant at 335 Middle Street in New Bern. Tickets are $16 for Historical Society members and $18 for non-members; lunch is included. Tickets must be purchased in advance by calling the New Bern Historical Society at 252-638-8558, or can be ordered on-line at NewBernHistorical.org.  Lunch choices are: Shrimp and Grits or Basalmic Chicken with rice and vegetables. Dessert is included.
Submitted by: Kathy Morrison, New Bern Historical Society