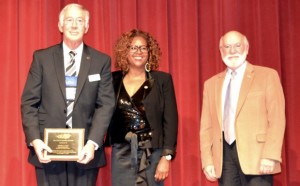 The North Carolina School Boards Association (NCSBA) has named Craven County Board of Education member David E. Hale to the honorary All-State School Board.
Hale was recognized during the Awards Ceremony of the Association's 46th Annual Conference for Board Member Development in Greensboro on November 17. During his introduction, conference attendees learned that leadership is perhaps Hale's most noteworthy character trait.  He oversees his board's stakeholder concerns and feedback, serves as board liaison to the county commissioners and on the county workforce development committee. His leadership, communication skills, and concerns for students are vital and instrumental to his board's success.
The All-State School Board is comprised of board members selected throughout the state. These individuals have made significant contributions to their school systems during their tenure on the local board of education. The members of the All-State School Board were peer-nominated for NCSBA's Raleigh Dingman Award or the School Board Member Leadership Award. Dr. Christine Fitch of Wilson County was named the Raleigh Dingman award winner, and Worley T. Edwards of Columbus County was named the School Board Member Leadership award winner. Other members of the honorary All-State Board are Amanda Bell, Rockingham County; Randy Burns, Burke County; June B. Dailey, Caswell County; Lisa Davis, Anson County; Gary Farmer, Wilson County; and Barbara Yates, Columbus County.
NCSBA was established in 1937 as an advocate for public school education. It is a nonprofit, nonpartisan membership association that represents all 115 local boards of education in the state and the Board of Education of the Eastern Band of the Cherokee Nation. NCSBA's mission is to provide leadership and services that enable local boards of education to govern effectively.
Submitted by: Jennifer Wagner, Director of Public Relations, Craven County Schools