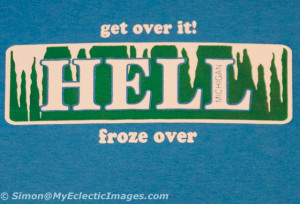 May I Suggest You Go to Hell
Hell, MI, population 72, consists of, "hellions, hell raisers and hell wannabes." That is according to John Colone, who can easily be recognized by his devilish grin and a wicked sense of humor. When you want the lowdown on what to do in Hell, John's the man to see.
– Rent a canoe or kayak, and be dropped off at Bruin Lake, from where you can paddle your way along the Hiland Lake Chain back to the Dam in Hell.
– Find out what's cooking at Hell's Kitchen, and remember, all calories consumed in Hell burn at a much higher rate than anywhere else.
– The above being the case, chill out from Hell's heat at Scream's Ice Cream. Only brave souls should attempt to devour the Gravedigger Sundae., served in a miniature replica of a coffin. If you finish it, you will receive your very own Death Certificate.
– Tie the knot in Hell with your smoking hot honey, where the only way for your marriage to go is up. Look for the wedding chapel with the question mark at the top of the steeple.
– Show your real estate savvy by purchasing a square inch of Hell for $6.66 (a fire sale, perhaps?)
– Play a round on Hell's quirky 18-hole Putt-Putt golf course. Charity tournaments are regularly held here, including an event to raise funds for the Gold Star Families, an organization near and dear to John's heart. This facility is handicap accessible.
– Celebrate Halloween year-round at Scream's Souvenirs and Hell-oween. Find the perfect souvenir. And before you get the hell out of there, make sure you pick up your Exit Visa, insuring your safe passage out of Hell.
– In 10th, grade John created Damnation University, affectionally known as Damn U. From this pre-Adam and Eve institution of higher burning you can now receive one of over 100 degrees in subjects like Stupidity, ducttapeology, and car-trashing.
– Looking for a gift for the person who has everything? Make your friend or family member Mayor of Hell for a day. One hundred dollars will insure a hell of a good time for your favorite imp. Political favors will include a mug, shirt, proclamation, a 1 inch piece of property in Hell, and, of course, a skeleton key to the city..
– Don't forget to send the folks back home a postcard from Hell postmarked "Have a hell of a good day" at the town's official post office. Every piece of mail that leaves Hell has singed corners.
– Hell holds an Annual Hearse Fest, every September, which has been a draw for lovers of this end-of-the-line vehicle and other fun-loving irreverent souls. Open to all makes, models and conditions of hearses, the only stipulation is that the vehicle was, or still is, in service as a real live hearse. Trophies are given, to winners in categories such as "Scariest Hearse", "Best Casket Cart" and "How the Hell did it make it here?" Admission and registration are free.
Hell is an unincorporated community located in Putnam Township, Livingston County, MI, approximately 15 miles northwest of Ann Arbor. It is divided into three sections: Uptown, MidTown and Downtown. There is exactly one building in each section. "We're Michigan's hysterical town," explained John. "Everyone else's is historical. We just want you to laugh and enjoy yourself."
You will find a hell of a lot more information about Hell at the town's official website.
By Contributing Author: Penny Zibula, Writer, TwoWriteHands