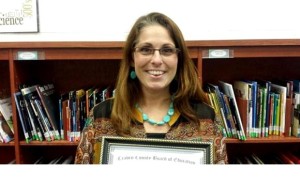 On September 30, 2015, Craven County Board of Education and Creekside Elementary spotlighted Ms. Shannon Potter, a teacher who has impacted the lives of her students and our staff. Through her hard work and dedication, she has strengthened her students' love for learning. She makes learning fun and her students love being in her class.
She is an instructional leader. She regularly attends workshops and shares what she learns with her colleagues. She is flexible, a team player, and always demonstrates a willingness to help wherever and however she is needed.
She has an amazing ability to develop relationships with her students and to let each one know that they are special and matter to her.  She spends hours on the phone fostering relationships and support from her students' parents. She truly loves all students and does whatever is necessary to help them learn. Her patience is second to none. She is a great asset to Creekside Elementary!
She has always put the needs of her students and fellow teachers first and the care that she feels can be seen everyday in all that she does for her students. Throughout her 16 years of service to Craven County Schools, she continues to use all the strategies available to meet the educational needs of her students. The spotlight should definitely be on Shannon Potter for her dedication to Creekside Elementary and the education profession.
Submitted by: Jennifer Wagner, Director of Public Relations, Craven County Schools