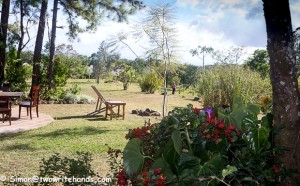 Try AirBnB for Your Next Home Away From Home.
When you're traveling on business, or in need of a place to rest your head for the night during a long road trip, a clean hotel room with a comfy bed, good shower and reliable wi-fi is true perfection. But when you're traveling for pleasure, there is an alternative that will bring you in closer touch with your surroundings than the sterile trappings of chain hotels.
AirBnB is a San Francisco-based company that puts travelers in touch with privately-owned accommodations in more than 190 countries and 34,000 cities worldwide. This on-line marketplace offers a variety of options based on your budget, length of stay and sense of adventure. With more than one and-a-half million listings, You can choose to spend a night, a week, a month or more in apartment shared with your host, an apartment of your own, a villa or a even one of over 1,400 castles.
My husband and I have used AirBnB for visits to Canada, Panama, Peru, England, France and several locations in Spain. So positive were these experiences, we now automatically check the website when planning any trip. Here are some examples of why.
London: Camilla was single, worked odd hours and was most helpful. We had a tiny room with kitchen privileges in her home and shared a bathroom. What the place lacked in amenities it more than made up for by convenience of location.
Cordoba: Candella had a walk-up apartment in which she rented out a bedroom with use of a private bathroom, as well as common areas, including the kitchen. Every morning, Candella set out breakfast items and invited us to help ourselves. "Our home is your home," she said.
Avignon: Dorothy and her husband lived off-site, but were a great source of useful information. We had an entire apartment to ourselves with a cozy sleeping loft. This was the only accommodation with no internet access.
Montreal: Rose and her husband also lived off-site, and owned several duplexes. This worked well, since our sons joined us for our stay.
So how does AirBnB work? Both hosts and travelers have to apply and be accepted. When you find something that is to your liking, you submit your dates and the host will contact you.
Before you submit your request, you can see your potential host's reviews, and if you are being considered, the host can read yours. So far, our reviews have been positive, and the ones upon which we have acted were accurate.
The pros to renting an AirBnB accommodation are obvious. First and foremost, there's no better way to immerse yourself in the culture of a new part of the country or world. Often, you will pay less than a hotel, and host are more than happy to share their favorite restaurants and shops with you. From a personal standpoint, our hosts have all been generous, friendly and warm. They have also given us a peek into how local folks really live.
The down side? Well, if wi-fi is critical, make sure you ask the right questions. Of course, there are always alternatives. In Avignon, we shared the lobby of the tourist office with fellow deprived web junkies, and no one seemed to mind.
The bottom line is that if you aren't persnickety about possibly sharing a bathroom, and you are flexible when it comes to creature comforts, AirBnB just might transform your vacation from good to great.
By Contributing Author: Penny Zibula, Six Legs Will Travel