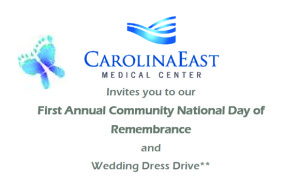 Event Recognizes and Promotes Resource Awareness for Pregnancy and Infant Loss
Most identify October as Breast Cancer Awareness Month, but it is also a time to promote awareness and provide information regarding resources and support within our community related to the grief of those affected by Pregnancy and Infant Loss.
The CarolinaEast Medical Center Perinatal Loss and Bereavement Committee strive to provide support to these families and invite them and all interested to attend the First Annual Community National Day of Remembrance on October 15th at 6:30 p.m. in Union Point Park, New Bern.
In addition to providing much needed support and empathy, poignant presentations will be made and a candlelight remembrance ceremony will be held. Members of the community are encouraged to consider donating wedding dresses to be shared with the NICU Helping Hands Angel Gown® program. The dresses are used to custom make gowns for photos and burial services. Bracelets featuring the blue and pink ribbon associated with Pregnancy and Infant Loss will be available for purchase for $3.00 with all proceeds benefitting the work of the Perinatal Loss and Bereavement Committee. For more information contact Perinatal Loss and Bereavement Program Coordinator, Shawna Knight, RN at 252-633-8200.
Submitted by: Megan McGarvey, Director, Public Relations, CarolinaEast Health System