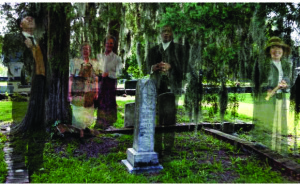 Coming October 22-24, 2015
New Bern Historical Society presents Un-Modern Family, its 25th annual Ghostwalk.  As we look back in history, everyone has THAT member of the family; the one that the family stories are about. New Bern's past is filled with spirited family characters, so as night falls in New Bern's Historic District October 22-24, be on the lookout for ghosts that might be somebody's uncle!
Every year at Ghostwalk, New Bern's spirits return to their haunts to tell their tales to the living. This year there will be 17 different ghost haunts with spirits lurking among the living from October 22-24. So be on the lookout for ghosts sharing lots of family memories in the Historic District those evenings.  Enter the Thomas McGinn House in 1966 and meet society writer Sue Flowers and an anxious bride and her mother. Then go back to the 1830's at Tryon Palace's Dixon House where you will learn all about that family from Antoinette Dixon. Continuing back in time to 1815 you will meet Kitty Green Stanly one of the founders of the First Presbyterian Church; she will tell you about her story and her husband, freedman Barber Jack Stanly.  These are just a few of the many spirits that will be about during Ghostwalk.
The Agony Alley Mystery Mansion continues this year with a light hearted mystery in the Attmore-Oliver House. Poor Mr. Dowd of the Veri-Good Bakery copes with his family in 1928.  He is thrilled with his new fangled purchase for the bakery, not so thrilled with his new partner. And the Veri-Good Bakery itself will appear with lots of delicious goodies.
As always candlelit Cedar Grove Cemetery will provide plenty of eerie entertainment! If you dare pass under the weeping gates you will meet the cemetery's famous grave diggers who will try to convince you to stay… forever. If you get past them, be on the lookout for the many ghostly characters whose lives shaped our city as they appear and disappear before your eyes.
New Bern's two historic theatres will open their doors again as well.
Hauntings begin Thursday, October 22, from 6:30 p.m. to 9:30 p.m. Expect ghost sightings at the cemetery and entertainment at both theatres and Agony Alley.  An additional thirteen (13) ghost sites are open Friday, October 23 and Saturday, October 24 from 5:30 p.m. to 9:30 p.m.
A complete listing of ghost sites can be found at NewBernHistorical.org in September. Tickets are available online at NewBernHistorical.org beginning September 15th. Check the website for ticket prices and outlet information, or call 252-638-8558.
Submitted by: Kathy Morrison, New Bern Historical Society