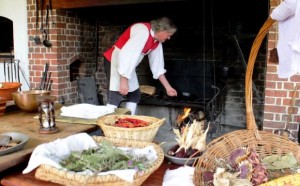 Annual Food Bank Fundraiser set for September 26, 2015
Tryon Palace's Kitchen Office will be just one of the many stops found on the Kitchens of New Bern Tour this Saturday, Sept. 26.
In addition to the Tryon Palace Kitchen Office, the Kitchens of New Bern tour includes homeowners who open their kitchens to the public in support of the Food Bank of Central and Eastern North Carolina at New Bern. Visitors are invited to garner ideas for designing or renovating their kitchen as they learn about the latest trends and state-of-the-art products from industry sponsors.
Visitors will also have the opportunity to enjoy special tastings by local chefs at various New Bern kitchens.
The Kitchens of New Bern Tour is self-guided and begins at the New Bern Riverfront Convention Center, 203 South Front St., New Bern. Beginning at 10 a.m., visitors may pick up an official event packet that includes a map and listing of the kitchens.
Those who supported the event in 2014 helped put 80,000 meals on the tables of their neighbors in need. For every $1 donated, the Food Bank can provide five meals, or $10 worth of food.
For more information about the tour, or to purchase tickets, call 252-375-8098. Tickets available at the North Carolina History Center and online at FoodBankCENC.org/KitchenTour.
For more information about Tryon Palace, call 252-639-3500 or visit TryonPalace.org.
Upcoming events at Tryon Palace include:
September 26: Celebrating Tryon Palace
October 1: N.C. Symphony Presents: Grow Up Great
October 2: Crown of Life: 300 Years of Christ Church
October 3: New Bern Academy Free Day
Submitted by: Craig Ramey, Marketing and Communications, Manager