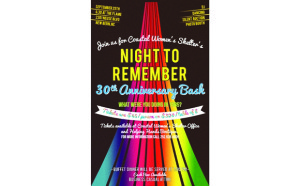 "What were you doing in 1985?" As Coastal Women's Shelter (CWS) celebrates its 30th year, they would like to bring together members of the community for an evening of fun, delicious food and the opportunity to thank those who have helped CWS serve those in need. Join them on Friday, September 25, 2015 at The Flame at 6:30 pm for a "Night To Remember-30thAnniversary Bash."
Tickets are $45/person or$320/table of 8. The buffet will be served at 7 pm. The following festivities are planned – a silent auction, a photo booth, a cash bar, 80's trivia, and dancing. Tickets can be purchased at the Helping Hands Boutique (2715Highway 70 East; 633-6305) or at Coastal Women's Shelter's office (1333 S. Glenburnie Road; 638-4509– ask for Carey).
Donations and fundraising events enable Coastal Women's Shelter to continue providing valuable services to victims and survivors of domestic violence in Craven, Jones and Pamlico Counties. Events like Night To Remember increase the community's awareness of the seriousness of domestic violence and help to reduce the stigma associated with abuse and victimization. These events also help CWS provide the needed support for victims of domestic violence that is not covered by their grants.
For more information visit their website at www.coastalwomensshelter.org or Facebook page at www.facebook.com/CWSNC.
Submitted by: Carey Ashcroft, CWS Fund Development Coordinator