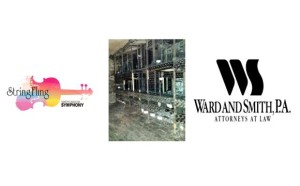 In conjunction with the N.C. Symphony's New Bern String Fling Gala on September 26, 2015, at the New Bern Riverfront Convention Center, the Gala Committee will conduct a wine raffle featuring a fantastic collection of wines from the cellars and collections of committee volunteers and area wineries, restaurants and shops. Proceeds from the Stock Your Wine Cellar raffle will benefit the Symphony's annual New Bern concert series and music education programs for school children.
The wine raffle is a rare opportunity to purchase some excellent varietals of wine while benefiting the Symphony.  A sample of wines to be auctioned include Pinot Noir, Chateauneuf-du-Pape, Chardonnay and Zinfandel from vineyards such as Arietta, Favia, Viader, and Williams Selyem. Price of individual bottles range from $50 to over $100. Wines will be raffled in three drawings of ten bottles each, with a fair market value of at least $650 for each drawing.
Raffle tickets are $25.00 each, or 5 for $100 and are available from local Symphony board members and at the New Bern Riverfront Convention Center. They will also be sold at the gala. You do not have to be present to win. For more information visit www.newbernstringfling.com.
Submitted by: Susan Moffat-Thomas