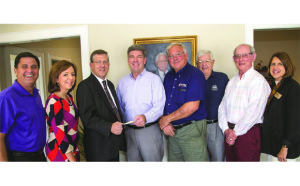 Craven Community College (CCC) has received a $95,200 grant from The Harold H. Bate Foundation to be awarded as scholarships to students in the 2015-16 academic year. This grant represents the largest scholarship award the college receives annually.
"The Harold H. Bate Foundation is among Craven Community College's strongest and most generous supporters. They're a phenomenal long-term partner to provide higher education opportunities to our students," said Dr. Ray Staats, CCC president. "The Bate Scholarships provide critical financial support to so many of our students who otherwise would not have the opportunity to attend Craven. The Foundation truly opens doors for our students to achieve their lifelong learning aspirations," he added.
"Craven Community College is a vital part of our community and plays such an important role in the lives of so many in our area," said Don Brinkley, The Harold H. Bate Foundation board president. "Mr. Bate was a strong supporter of Craven Community College and would be pleased with our partnership," he added.
Since 1999, The Harold H. Bate Foundation has provided a total of $2.36 million in grants to CCC. In the 2014-15 year, 173 students received a Bate Scholarships. Students who received the scholarships were awarded $600 per semester, or a maximum of $1,200 per year. Students who received scholarships were enrolled in at least six credit hours per semester and had a minimum of a 2.0 grade point average. Students must fill out the Free Application for Federal Student Aid (FAFSA) and Bate Foundation application.
Founded in 1965, Craven Community College is part of the North Carolina Community College System. With campuses in New Bern and Havelock-Cherry Point, Craven serves about 3,200 curriculum students and more than 10,000 continuing education students each year. The college offers a wide range of associate degree and certificate programs, as well as college transfer courses, career and occupational offerings, partnerships with four-year universities, specialized workforce training options, developmental studies and basic skills classes. Craven Early College High School programs are available on both campuses. Craven is also home to Public Radio East, one of the few community colleges nationally with this distinction. For more information about the college, visit www.cravencc.edu.
Submitted by: Deborah Kania, Director of Marketing, Communications & Development Liaison, Craven Community College