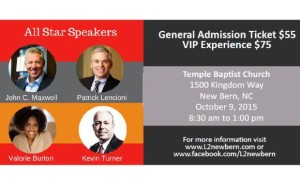 October 9, 2015
8:30am – 1:00pm
Presented by the New Bern Area Chamber of Commerce
Join us for this leader development experience designed to equip you with new perspectives, practical tools, and key takeaways.
You'll learn the difference between good intentions and intentional living from bestselling author John C. Maxwell.
You'll learn the importance of organization health with bestselling author Patrick Lencioni.
You'll learn how to become resilient and ready from bestselling author Valorie Burton.
You'll learn leadership lessons in an interview with Kevin Turner, COO of Microsoft.
General Admission Ticket – $55
VIP Ticket $75
– Preferred seating
– Networking & Lunch post event
– Session facilitated by Pam Pippin, a John Maxwell Team Founding Partner and Mentor
– Walk away with an action plan
– 4 total sessions based on each speaker's content
Groups of 10 or more General $40 & VIP $55
Register online at www.L2newbern.com.
Submitted by: Amanda Banks, Partner/Office Manager, A.G. Salem & Associates