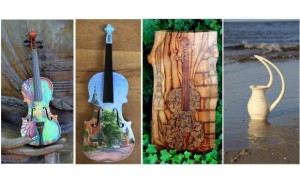 The New Bern String Fling Gala & Auction will be held on September 26th and proceeds will be used to support the annual North Carolina Symphony performances, children education programs and music education.
We enjoyed our interviews with three more Artists who dedicated their work to this special event. Stay tuned for more interviews. Find out what inspired them to create their designs and learn more about them by listening below:
GeeVee Meyer:

My philosophy on art is heavily influenced by her travels and the artists she meets. She admires those who have spent their lifetimes constantly improving their artistic technique and engages them for collaboration and critique. The camaraderie edges her forward into new subjects and series. She looks to reference materials in art history for both inspiration and technical skills. Her work is influenced by master artists of the old world – Sargent, Sorolla, Degas, Hensche, and Michelangelo, among others. Her choice mediums are oils and mixed-media, and charcoal and pastels are also staples in her studies.
Daphne A. G. Thomas:

Inspiration for all my work is very simple – the earth where we reside. From the time I could explore, I have been drawn to our natural world. My interest began with collecting spiders as a child. From these small arachnids, my curiosity grew. All fauna and flora became interesting. Each organism may appear uncomplicated at first observance, but even the least complex life form is full of details to be seen. It is the details, the small pieces that collectively comprise the whole that I find so intriguing. The vine on the violin added a natural element that relates to the violin's organic quality. Yet it is an elegant instrument, and so I placed it in surroundings that felt classical.
Allesandro Cagiati:

All of my work is designed to be used, touched, and used again. Each piece is handmade and glazed with food safe glaze. They are all microwave, oven, and dishwasher safe. I put my signature on each piece. It is the beginning of my guarantee to you.
For more information on the New Bern NC Symphony Board or Gala, visit: NewBernStringFling.com or contact Linda Staunch, New Bern Board President at 252-638-9050. For more information on the North Carolina Symphony visit NCSymphony.org.
Get your tickets today!
Information provided by: Tom Payne, Joanne Payne, Linda Staunch, and Susan-Moffat Thomas
Tell us what you think by commenting below or sending us an email. Visit New Bern Now's Facebook page or sign up for daily updates by submitting your email address in the right margin on New Bern Now's website.
Wendy Card