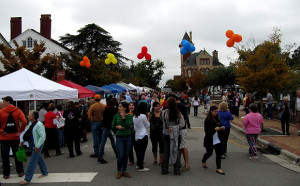 On October 10-11 there is no better place to spend the weekend with the family than in historic downtown New Bern.
MUMFEST is going to be really, really big this year with a big concert on Friday night (more on this soon), a huge boat show, a big art exhibit and 300 plus vendors! Bring the family to New Bern for a jam-packed weekend of non-stop action with high flying acrobats, dance troupes, magicians and the ever popular amusement park rides.
Mumfesters will find music, dancing, great shopping, delicious food, magicians, street performers and more filling the heart of New Bern's historic downtown and riverfront. We invite you to come discover many never before seen attractions along with old favorites and over 300 carefully selected vendors and exhibitors.
There will be lots of exciting new entertainment including Down to Earth Aerial Acrobatics (think Cirque du Soleil), the Yo-Yo Guy who holds four Guinness records, Art in the Park with artists from across NC and a honest to goodness Pirate Ship.
Your favorites will also be back this year to help us celebrate! Alex Clark is a world traveled circus-trained comedian who juggles flames, climbs the 10' ladder of "doom" and is simply amazing
These dogs are not your ordinary mutts! The high-flying Purina Incredible Dog Team made up of rescues, will be back to perform astonishing free-style disc routines set to music. Stop in early to get a good seat to watch the show!
Children (of all ages) line up to watch the Gabardine Sisters, Poly and Ester! This puppet show has become such a favorite that children know the names of the puppets and their antics! Storytelling is an art in itself and we are fortunate to have our favorite storyteller back this year. Steve Myott is a skilled storyteller who uses huge masks to demonstrate his stories with music and comedy.
New Bern's original fire station on Broad Street will be open just in time for MUMFEST! You'll know you're there when you see the 1933 fire truck parked out front. This is not your ordinary fire station. The fascinating history, both during and after the Civil War, and the valiant fight against the fire that nearly destroyed downtown New Bern is something everyone should learn.
Speaking of fire, don't miss the new Fire Safety House. We liked the old house but this new one will knock your socks off! The USCG will have a display on water safety and the Community Emergency Response team (C.E.R.T) will be on hand to answer your safety questions.
New Bern has its very own version of Dancing with the Stars with performances from local dance studios on Saturday. These talented dancers and their colorful routines are almost ready for Broadway.
Don't miss the Coastal Carolina Railroaders model train exhibition and the ever popular mini-Thomas the Train exhibit at the Sudan Temple. There are over a hundred trains filling this exhibition and the attention to detail is fantastic.
MUMFEST is a combination of fantasy, fun and entertainment that has attracted visitors to the beautiful and historic downtown and waterfront for 35 years.  MUMFEST was recognized four times in the past ten years by the Southeast Tourism Society as a Top 20 October Event in the Southeastern United States and is consistently voted the Best Festival in the annual Sun Journal Readers Choice Awards.
New Bern's beautiful historic downtown has become a shopping and dining destination with its many art galleries, privately owned shops, restaurants and waterfront parks. Make your reservations early and come spend the weekend with us!
Keep checking the website MUMFEST.com as more information is added.
Submitted by: Nancy Hawley, MUMFEST 2015