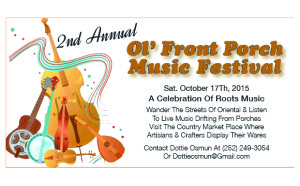 The Ol' Front Porch Music Festival, which takes place on Saturday, October 17th along Broad and Hodges Streets in Oriental, is a labor of love carried on in great style by inspired local folk, newcomers and long-time residents alike, to give a taste of yesteryear.
Dottie and Dick Osmun and others in the band, Harbor Sounds, had been wanting for years to put on a bluegrass festival in Oriental.  They drew their inspiration from the musicians who formerly gathered on the porch of Captain Billy and Lucille Truitt's Ol' Store at South Water and New Streets back in the 60's and 70's.  Billy and Lucille have passed away and the Ol' Store building itself was torn down almost a decade ago, but memories lingered – pick-up music sessions amid piles of old fishing nets and rocking chairs on the porch.
With this vision of re-creating that musical experience for the Oriental of today, plans were being made in the summer of 2014 to set up a festival that would use one or two churches in town as the venues.  Dottie Osmun and her neighbor, Leslie Kellenberger, weren't sure that they could pull it off and Dottie was saying she thought it would be best to delay the festival until the following year.
Thing is, Leslie didn't read Dottie's email before going out for her morning run.  She jogged down North Street and on to the river and the harbor.  When coming back up Broad Street, she ran by number 507, home of new owners, the Price family. "I ran by the house and noticed how welcoming the porch looked," Leslie says. That's where the idea started taking shape for her.  "Right there at the Prices' house, I think I stopped in my tracks, stared at it, looked around to see if there were other porches nearby. There were plenty!  I ran straight from there to Dottie's front door and rang the doorbell. She let me in saying, '"You got my e-mail this morning? We're not going to be able to pull this off."'
But Leslie shared her idea:  Why not have the Festival on a bunch of porches in Oriental?
"Porches, yes porches! That'll work!" exclaimed Dottie.  And so began a hit-the-ground running effort to find residents and businesses willing to let their porches be used and local musicians willing to play.  All of it for free. Word went out and there were soon a dozen porches in the mix – from Town Hall at the north end of Broad Street, down Broad toward the Oriental bridge then down Hodges past the harbor to the Village Gallery and Marsha's Cottage.  Great local musicians responded to the call – 14 groups in all!  The ideas for the event grew as they went along, bringing together musicians, homeowners, volunteers, businesses and churches, gathering momentum and generating wide-spread enthusiasm.  And thus began an exciting new chapter in the rich history of this special community.
The result? The 2nd Annual Ol' Front Porch Music festival!  It will begin on Friday evening October 16th at 7:30 p.m. as the Old Theater kicks-off the festival with a musical documentary, "Muscle Shoals"; Salty Paws, a live-aboard duo will perform beforehand (at 6:30 p.m.).  The Theater is donating half the intake to the OFPMF.  Saturday's lineup will leverage last year's great musicians as well as some newer groups.  Most exciting are two headlining performers, The Carmonas, a young dynamic country group from Nashville, Tenn. Then the finale will be world-renowned singer-songwriter Laurelyn Dossett from Raleigh.  Re-appearing this year will be Green Creek Bluegrass, Harbor Sounds, Ed Terry, The UHOOS, Salty Paws, The New Sensational Messengers, Bob Jones, and Mac McWilliams.  New to the festival are:  Gumbo Lily from Morehead City; Far From Done from Raleigh; George Perry from Pfafftown; Dixie Strings from New Bern; Flat Mountain Dulcimers from Goldsboro; Moore's Creek Bluegrass from Merritt; Andy Ferrell from Boone, and Coastal Notes Woodwind Quintet from New Bern.
While music is the main focus, the organizers also want local artisans to have a chance to show their wares. More than a dozen will be set up at a Country Marketplace on the corner of Broad and Main, and a Food Court will be there as well.  Rotary has joined the fun this year and will host a Classic Car Show along the river and a chicken barbecue dinner in the evening.
With a look toward the future and the 3rd Annual Ol' Front Porch Music Festival, the committee has been selling buttons. Be sure to be supportive and buy your button!
For more information, call 252-617-0540.
Submitted by: Jackie Mahan on behalf of Dottie Osmun