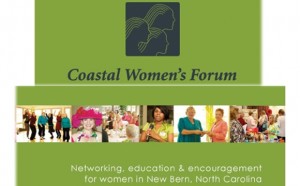 There's No Time like the Present to Find Out by Penny Zibula
The combination of diversity and a search for common ground can create positive energy that is unstoppable. This energy was present throughout the first Coastal Women's Forum meeting of 2015 – 2016.
President, MaryAnn Jordan Yates and several Board members outlined the plans for the year, and how they relate to what it means to be a Coastal Women's Forum woman.
So what will CWF members get for their $40 annual dues?
40 for 40 contest: Earn points by attending meetings, bringing a guest, wearing a CWF name tag, placing information in the newsletter, updating or creating a member profile on the website and more. Accumulating 40 points can win you a free $40.00 membership for 2016-2017.
New and improved website: The new CWF website is more dynamic and user-friendly than ever. From registering for meetings to getting the latest CWF news, to making your business or service known to fellow members, the site is a wealth of information and opportunity.
Informative and entertaining speakers: Topics will cover a range of ideas on being the best woman you can be, whether you're an entrepreneur, young professional, retiree or volunteer. Open yourself up to new opportunities.
Expanded Board now includes a social media expert: CWF understands the benefits of having a strong presence on Face Book, LinkedIn and other social media platforms. Members are encouraged to participate. How-to information is available to help demystify the process.
Membership in an organization that listens: In early June CWF asked members to fill out a survey asking what people liked, what they didn't like and what changes CWF needed to make. The overwhelming response was that the lunch venue and menu were not up to members' expectations. In response, CWF Board members visited new venues and sampled meal options. The result is that the New Bern Golf and Country Club will be the new location for future CWF monthly lunch meetings.
Regardless of the venue, a price increase was unavoidable. The new pricing for lunch meetings is $15 for members and $20 for guests
MaryAnn is confident members will get their money's worth for the cost of membership and meetings. To her, CWF offers far more than tasty meals and networking opportunities. "So many times," she noted, "women think they can do it all; caretaker, mother, wife, business owner. But no one can do it all. We all need to share, ask for help and get the help we need." This is exactly what CWF women do.
Looking back on her first year as CWF's President MaryAnn's goal at the beginning of 2014 was to increase membership by 10 per cent (12 new members). That goal was not only realized, but surpassed by more than double.
This year, she would like to see more engagement in all areas. This includes increased attendance at meetings, more social media participation in the form of likes, shares and comments, more hits on the website and, more completed profiles. The latter is particularly important, because it enables members who are in need of products and services to connect with those who provide them.
MaryAnn and the CWF Board invite you to become a Coastal Women's Forum woman. Join members and guests at the August 19th Lunch Meeting, at the New Bern Golf and Country Club from noon to 1:00 PM. Registration will begin at 11:30 AM Reservations must be made or cancelled by noon on Monday, August 19.
For more information, contact Lunch Coordinator, Sandy Eichelberger at 301-938-4836.
To learn more about what Coastal Women's Forum has to offer, visit our website.
By Contributing Writer, Peggy Zibula, Six Legs Will Travel