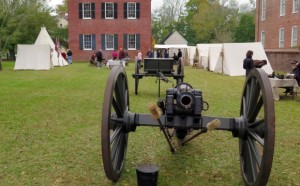 Civil War Weekend set for Aug. 15-16
at New Bern Academy Museum
The sights and sounds of the Civil War will come to life during Tryon Palace's Civil War Living History Weekend held at the New Bern Academy Museum Aug. 15-16.
Used as part of the Foster General Hospital during the Union occupation of New Bern from 1862-1865, the Academy will be home to reenactors, artillery and infantry demonstrations and lectures throughout Civil War Living History Weekend.
There will be lectures on several Civil War topics like the Battle of New Bern, blockade runners, surgery during the war, women in the Civil War and Fort Anderson. Speakers include Civil War historians, reenactors, and professors like Grover Godwin, Dr. Chris Fonvielle, Lori Sanderlin, Tryon Palace assistant director LeRae Umfleet and more.
In addition to the special activities at the Academy, Tryon Palace will hold Civil War-themed tours in the historic Dixon and Stanly houses and the Civil War-era Hay House will be open on Eden Street.
Saturday evening the artillery and infantry will move to the South Lawn of Tryon Palace for live night firings at 9 p.m.
Sunday's activities will begin with a period church service and continue with more artillery and infantry drills on the Academy lawn.
In addition to the free outdoor activities, the New Bern Academy Museum will also be free and open to the public throughout the two days, which includes the exhibit Face to Face: Civil War Sketches and Stories. The New Bern Academy is located at 508 New Street.
For more information call 252-639-3500 or visit TryonPalace.org.
Upcoming events at Tryon Palace include:
August 21: Lunch and Learn — Yellow Fever
August 22: The German Defeat
September 5: Stanly-Spaight Duel
September 12: Tryon's Explorers: Discovering the Kitchen Garden
Submitted by: Craig Ramey, Marketing and Communications, Manager, Tryon Palace