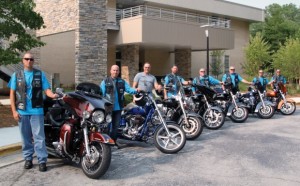 Craven Community College (CCC) received a donation for $1,650 from the Veteran Enforcers Motorcycle Association (VEMA) New Bern chapter to assist CCC's Basic Law Enforcement Training (BLET) Program.
The funds were raised at VEMA's Fallen Officer Memorial Ride in April, which has held in honor of fallen New Bern Police officer Alexander Edward Thalmann, 22, who served in the United States Marine Corps and was a 2013 graduate of Beaufort County Community College's BLET program. The donation will establish the yearly "Fallen Officer Memorial Scholarship" to benefit CCC BLET students who need assistance purchasing textbooks and uniforms.
"VEMA's scholarship has the potential to really assist some students with an opportunity they may not otherwise have, and we feel very fortunate to provide this opportunity to future law enforcement officers in Craven County," said Rick Barney, director of CCC's BLET program.
"We greatly appreciated the local community's support at this year's ride and look forward to doing it again next year," said Bryan Rupple, commander of VEMA, New Bern chapter.
About Craven Community College
Founded in 1965, Craven Community College is part of the North Carolina Community College System. With campuses in New Bern and Havelock-Cherry Point, Craven serves about 3,200 curriculum students and more than 10,000 continuing education students each year. The college offers a wide range of associate degree and certificate programs, as well as college transfer courses, career and occupational offerings, partnerships with four-year universities, specialized workforce training options, developmental studies and basic skills classes. Craven Early College High School programs are available on both campuses. Craven is also home to Public Radio East, one of the few community colleges nationally with this distinction. For more information about the college, visit www.cravencc.edu.
About Veteran Enforcers Motorcycle Association
Veteran Enforcers Motorcycle Association's (VEMA) mission is to raise awareness and ensure the sacrifices our military, firefighters and police have made to our nation and local communities is not forgotten. For more information about VEMA New Bern, or about how you can help support next year's Fallen Officer Memorial Ride, send email to vema252@gmail.com.
Submitted by: Deborah Kania, Director of Marketing, Communications & Development Liaison, Craven Community College