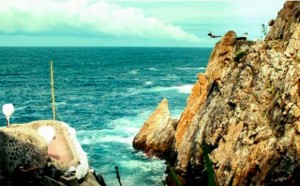 Orringer Auditorium, New Bern Campus.
Two shows each date:  2:30 p.m. and 7:30 p.m.
Admission is FREE.  Donations support the series.
Friday, Sept. 4, Instructions Not Included, 2013 (Mexico)
Valentin is an irresponsible playboy who must grow up quickly when a former lover leaves him their baby daughter – and then disappears for six years. Leaving Mexico for Los Angeles to find the baby's mother, Valentin ends up finding a new home for himself and his daughter, Maggie.  Valentin raises Maggie while establishing himself as one of Hollywood's top stuntmen. Their unique and offbeat family is threatened when Maggie's mother shows up out of the blue.
Comedy/Drama – Language: Spanish with English subtitles, PG-13, 122 minutes, filmed in Mexico
Friday, Oct. 2, Bliss, 2007 (Turkey/Greece)
When a young woman named Meryem is raped, her village custom requires that she be killed in order for the dishonor to be expunged from her family. A young man named Cemal, the son of the village leader, is given the gruesome task but at the last moment he has doubts. The pair goes on the run, followed close behind by local thugs intent on killing the girl. Luckily enough, Cemal and Meryem meet up with a charismatic man named Irfan, an ex-university professor who is embarking on a sailing trip, and needs a crew. Together this unlikely trio set forth on a voyage that will change all of their lives.
Drama – Language: Turkish with English subtitles, NR, 105 minutes, filmed in Turkey
Friday, Nov. 6, Vincent Wants to Sea, 2010 (Germany/Italy)
27 year old Vincent suffers with Tourette's syndrome. When his mother dies, the young man must learn to live without her and with his disorder. His father displaces Vincent by putting him in an institution so as not to disrupt his political election. Once there, Vincent absconds from the institution with two other inhabitants who are battling their own demons. Together, they travel to Italy to fulfill Vincent's mother's last wish – to have her ashes spread in the sea. Through the journey, the escapees are chased by their doctor and Vincent's father during which everyone explores and faces their challenges with drama and humor.
Comedy/Drama – Language: German with English subtitles, NR, 96 minutes, filmed in Germany and Italy
Submitted by: Jennifer Baer, Director of The Lifetime Learning Center and Community Outreach, Craven Community College