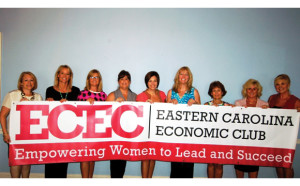 NC State Treasurer Janet Cowell slated as First in Speaker Series
The Eastern Carolina Economics Club (ECEC), a new membership organization for professional women in eastern North Carolina, has officially launched as the first association of its kind in the area. ECEC is designed to empower female business leaders by creating a forum for sharing best practices in business and offering educational opportunities vital to advancing women's success in the workplace.
"Professional women frequently face the difficult challenge of simultaneously acting as CEO of their home and their business – a balancing act most often unique to women," says Christine Meyers Moore, Founder and Chair of ECEC. "This organization exists to inspire and support professional women facing similar challenges so we can learn from one another and encourage each other's success."
ECEC will empower women to lead and succeed by:
– Bringing a variety of speakers illustrating the diversity of thought, skills and intelligence achieved by women in North Carolina. These speakers will represent many areas of talent including but not limited to business, politics, finance, arts and education.
– Sharing unique challenges and solutions often faced by professional women, business owners, wives and mothers with each other. This will be done through roundtable discussions, small meetings and personal contacts.
– Sharing expertise, both individually and collectively, with middle school, high school and college students. As role models and mentors, we will encourage students to take courses that translate into marketable skills in today's workforce.
"We are going to work to advance women's excellence through education, collaboration and mentorship," stated Sabrina Bengel, co-founder of ECEC. "There are so many extraordinary business women in our area. It's time to both celebrate their accomplishments and learn from their experiences."
To showcase the caliber of professional leadership and talent in this area, ECEC is launching its Women's Leadership Speaker Series 2015-2016 on September 23. The first speaker of this series will be NC State Treasurer Janet Cowell, the first woman to ever hold the position in North Carolina's 228 year history. With over 20 years of private and public-sector financial leadership, Cowell oversees more than 90 billion dollars in pension investments for the more than 900,000 of the State's teachers, firefighters, and public employees.
She will be speaking at the New Bern Convention Center at a luncheon starting at 11:30 on September 23, 2015. The event is open to the public.  For tickets and sponsorship info PRESS Control and Left Click and log onto: www.ecec-janetcowell.eventbrite.com. Of course, you can always cut and paste the URL into your browser. VIP tickets, which include a reception with Cowell, are available for $75.00.
In addition to the Women's Leadership Speaker Series, ECEC will offer members-only events such as roundtable breakfasts and luncheons. The ECEC meetings are both social and serious by providing ample opportunity to network before the formal program.
"Our members believe that sharing challenges increases the opportunity for workable solutions," adds Moore. "By supporting one another and mentoring the next generation as they grow and thrive, we will contribute to the success of our community's future."
For more information on membership, visit eastern-carolina-economic-club.org. For media requests, including interview inquires for Christine Moore or Sabrina Bengel, please contact Amber McCracken at 703-599-0134.
Submitted by: Amber McCracken, Current Communications