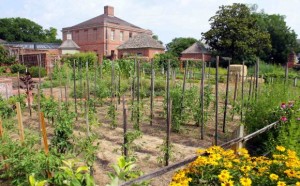 Children to learn about 18th century gardening Aug. 8
Children ages 3-5 can explore the lush Tryon Palace Kitchen Garden at 10 a.m. Saturday, Aug. 8, to discover how the royal governor's food was grown in the 18th century and plant a seed of their own to bring home.
Tryon's Tots is designed for individual families. Space is limited to 20 children. Extra openings will be filled the day of the event on a first-come, first-served basis.
All Tryon's Tots programs begin at the North Carolina History Center.
To reserve a spot in this program call 252-639-3524 or visitwww.tryonpalace.org.
Upcoming events at Tryon Palace include:
August 11: Jonkonnu Performance
August 15-16: Civil War Living History Weekend
August 21: Lunch and Learn — Yellow Fever
August 22: The German Defeat
Submitted by: Craig Ramey, Marketing and Communications, Manager, Tryon Palace