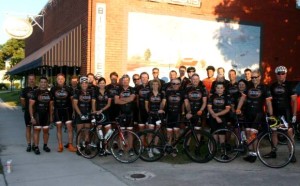 Tom Hewitt is an owner of AtOmic Cycles Bicycle Shop in New Bern, a top sponsor for the Historic New Bern Bike MS event coming in September. Before even moving to New Bern though and establishing his business, Tom has been part of a Bike MS team since 1994. In fact, Tom has now been involved with the National Multiple Sclerosis Society through Bike MS as a participant for over 20 years.
"As a cyclist, it's humbling to ride for those we know who struggle with MS on a daily basis," he said. Tom said that there are so many things that can be taken for granted about not battling an illness like MS, such as being able to take a leg over a bike for a ride. He said that his team is always excited to raise lots of money that goes to people with these day to day matters, and plus he added that Bike MS is "also a heck of a lot of fun" and has lots of "camaraderie."
Bike MS is what brought Tom to New Bern in the first place, and it was when he was in New Bern for the event that he first thought of opening a shop here. Now that AtOmic Cycles is a Titanium sponsor, Tom said that over the years through supporting Bike MS as both a participant and a business owner, he has been increasingly aware of friends and customers who have MS, in addition to family members and other connections of friends and customers who have MS. He said that his shop's participation in the event has brought visibility to both New Bern and his business, as the ride is large and influential.
Tom said, "We believe that being a Titanium Sponsor, as well as fielding the top fundraising Team in the New Bern Area for the past two years, is just the right thing to do, being that we are a Local New Bern Bike Shop, which supports the Cycling Community as a whole, and are also members of the larger New Bern business community looking to promote a better way of life for all of our citizens, certainly inclusive of those struggling with MS.  We do take pride in knowing that our fundraising efforts are going directly to helping many of our fellow North Carolinians live more fulfilling lives, even though they have MS."
Basics 2 Ballistics 4 Bikes…that's AtOmic!
AtOmic Cycles Bike Shop has been in business since September 10, 2010 and has fielded a Bike MS Fundraising Team, supporting the Ride at the Titanium Level almost each of those years. The shop provides all the basic services needed to help local cyclists keep their bikes maintained and ready for training rides as well as the MS Bike Event Weekend every September.  AtOmic Cycles thinks of their services in terms of: Basics: Flat Fixing Services/Air, Adjustments/Bike Checks, Tune-Ups, Bike Builds, Wheel Builds, Bike Overhauls, Group Training Rides (Four Weekly – Tuesdays, Thursdays, Saturdays and Sundays) and Individual Riding Lessons;  Ballistics:  Wheel Upgrades, Component Upgrades and Sizing/Fitting Services so that those riders that desire to be more comfortable, efficient and powerful on their Bikes, no matter what kind of riding experience they want or may have in mind, can do just that.
Want to join AtOmic in their efforts? Visit www.bikemsnewbern.org and register to ride or volunteer!
Submitted by: Sarah Merritt, Manager, Public Relations and Marketing, National Multiple Sclerosis Society