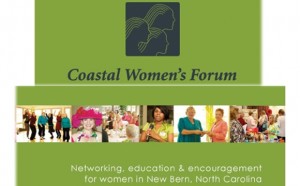 Coastal Women's Forum will hold its first Dinner Meeting of 2015 – 2016 on Tuesday, August 4 at 6:00pm, at the Chelsea Restaurant in New Bern.
CWF President, MaryAnn Jordan Yates, will introduce the 2015 – 2016 Board of Directors and provide a brief overview of her vision and her theme for this year: The Complete Coastal Woman's Forum WOMAN. This will be followed by a panel discussion of the "Who, What, Where, When and Why" of CWF for the coming year.
Informal networking will begin at 5:30pm.
The deadline for reservations is noon on Monday, August 3. For more information or assistance with registration, contact Dinner Coordinator, Jo Johnson at 252-636-3777.
To learn more about what Coastal Women's Forum has to offer, or to register online, visit www.CoastalWomensForum.com.
By Contributing Author, Penny Zibula, Two Write Hands