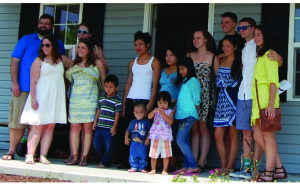 Habitat for Humanity of Craven County celebrated the completion of its 59th home at a dedication ceremony Sunday, July 19th, 2015. Ah Nu Lay and her family received the keys to their new System Vision home after a year of construction.  Along with the wonderful Habitat volunteers, Site Manager Jimmy Garner, and the Habitat staff, Lay and her family and friends worked side by side to make their dream of owning a home; a reality.
Over 30 people came together for the dedication ceremony including family and friends of the homeowners, Habitat volunteers and staff, Habitat board members, and Pastor Paul Canady from Christ Episcopal Church, the sponsor of the Habitat house, as well as New Bern City Aldermen, Victor Taylor and Jeffrey T. Odham. Mayor Dana Outlaw was also in attendance supporting the event. Nine students from the University of Delaware Blue Hens returned to New Bern for the event, with one student driving from New Jersey.  These philanthropists spent their Spring Break on the Habitat site in late April of this year building House #59.
The dedication opened with a prayer by Rev. Canady with the Blessing of the home read by Habitat Board President, Judy Pierce. Habitat Construction Site Supervisor Jimmy Garner presented the family with a Bible. Chris Babich presented the family a quilt made by herself and Gail Dorman.  Executive Director Mark Beard led the guests in the reading of the Litany of Life and his 9 year old daughter, Elizabeth, presented the homeowner with the keys to their new home.
Homeowner, Ah Nu Lay said "Thank you very much," through her daughter EhDah who translates for the family.  Habitat homeowners are required to devote 200 hours of sweat equity towards the acquisition of a Habitat house.  Husband and father, Htee Ku, and his family worked 270 hours.
Habitat is truly a "hand up" not a "hand out".  They do not give away houses. Rather, they replace blighted properties or vacant land with solid, attractive homes and partner with deserving families who manage a modest 25 year interest free mortgage. With the help of many volunteers, Habitat for Humanity is able to keep the cost of the homes low. Since 1989, Habitat for Humanity of Craven County has helped change the lives of over 59 families.
Submitted by: Pamela Johnson, Habitat for Humanity of Craven County