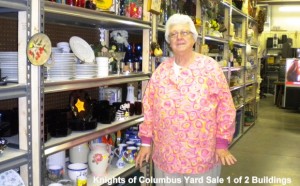 Friday, June 12th – 8 AM to Noon
Saturday, June 13th – 7 AM to Noon
1125 Pinetree Drive, New Bern
Two large buildings filled with everything imaginable. Clothing, dishes, computers, books, appliances, furniture, kitchen items, TV's, CD's, bedding, arts and crafts, lamps, bicycles and so much more!
We have added new shelves and rearranged our floor plan to make your shopping experience even more pleasant! Also new tents will offer protection during inclement weather. Remember all proceeds from our sale go to local charities to help the less fortunate among us.
We accept donations at 1125 Pinetree Drive every Tuesday from 9:00 AM to Noon.
Submitted by: George Halyak, Knights of Columbus