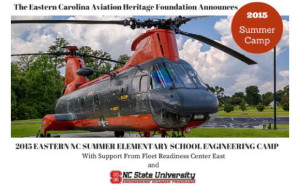 July 13 – July 17, 2015
The Eastern Carolina Aviation Heritage Foundation will offer an exciting, aviation­-themed weeklong summer day camp this July for elementary school students (rising fourth, fifth and sixth­ graders) at the Havelock Tourist & Event Center.
The camp will provide students a fun and positive glimpse into various fields of engineering by using hands­ on, creative investigations and real­ world building activities. Throughout the week, students will be divided into design teams led by local elementary school teachers. In their teams, students will be given the challenge to individually design and build various devices related to aviation and engineering. Students will learn engineering fundamentals by exploring various experiments related to aviation.
On the final day of camp, students will demonstrate their work in a public forum that incorporates many of the concepts from the camp's weekly activities. Families and the community are invited to attend this final competition on Friday afternoon.
The camp is from 8:30am – 12:00pm, Monday through Friday, and a snack will be provided. No lunch is provided.
Cost for the camp is $125 per student. Scholarships may be available for students with demonstrated financial need.
For more information, contact Amanda Ohlensehlen or Greta Meadows at 252-444-4348 or visit The Eastern Carolina Aviation Heritage Foundation's website.
Submitted by: Sara M. Neilson, Summer Tourism & Marketing Intern, Havelock Tourist and Event Center