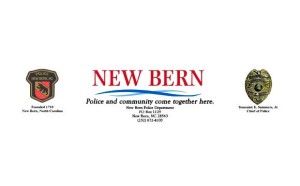 "There's an easier way to help citizens after a crisis"
Just in time for the 2015 Atlantic Hurricane Season, the hurricane re-entry pass program has been suspended for New Bern business owners and city residents. Until recently, the program was managed by the New Bern Police Department. Residents and business owners were required to sign up either in person at the New Bern Police Department or through the City website, NewBern-NC.org, and the department maintained a large database of all registered re-entry pass holders. But now, the department is urging residents and business owners to keep a few items handy that will permit re-entry after a devastating hurricane or other disaster.
"We were creating a burden on citizens and business owners, and on our employees and staff, by asking people to apply for a pass and be able to locate it in a time of disaster," said New Bern Police Chief Toussaint E. Summers, Jr. "We'd end up with a backlog of applicants who would sign up in the days leading up to a hurricane. It was a mess and added stress during an already stressful time. There's an easier way to help citizens after a crisis."
"Most people who are forced to evacuate are going to have their wallet or purse containing a valid driver's license and/or vehicle registration," said Chief Summers. "Those are acceptable identifying documents for our department to allow everyone back into their homes or businesses."
The New Bern Police Department will accept several forms of identification or documentation to permit re-entry after a hurricane or other disaster:
– State Issued Identification (driver's license or photo ID with valid address)
– Vehicle Registration
– Local Utility Bill
– Tax Bill
– Mortgage Deed
It is important to note that this new re-entry procedure will not be used each time New Bern experiences a severe weather event or hurricane. It will be used in extreme circumstances when access to New Bern is deemed unsafe. The re-entry pass page and form have been removed from the City website. The new re-entry process outlined above is effective immediately.
Toussaint E. Summers, Jr., Chief of Police
Submitted by: Colleen Roberts, Public Information Officer for the City of New Bern