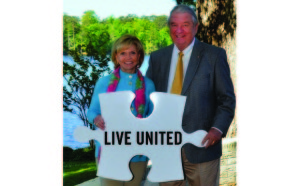 Leadership Circle Co-Chaired by Governor Bev Perdue and Mayor Chuck Tyson! You read that correctly, Bev and Chuck want you to partner with the United Way because they know the importance of a vibrant community, where education, income and health are the critical factor for success. They both have worked hard in their own careers to ensure those factors are front and center.
Governor Perdue, whose term of office was from 2008-2012, was North Carolina's first female to lead the state. She also served as the 32nd Lieutenant Governor, was elected to the NC House and served 5 terms as a State Senator. Since leaving public office Perdue founded and is the Chairwoman of the Digital Learning Institute.
Mayor Chuck Tyson was first elected to Craven County Board of Commissioners in 1994; Re-Elected in 1998 and served as County Board Chairman in 1997-1998. Tyson was elected as Trent Woods Town Commissioner in 1987 and served until 1993. In 2007 he was elected Mayor of the Town of Trent Woods. Mayor Tyson is currently the sole owner of Tyson & Hooks Realty, Inc. and Tyson Management Company.
Bev and Chuck have not agreed on a lot in politics, policy and government. You could say they are polar opposites on a lot of things, but when it comes to helping the community, they are in complete agreement. Over the next few months the United Way of Coastal Carolina will be reaching out to the community, if your business would like to host an employee campaign, sponsor an event or you would simply like to make a donation that will impact the lives of others we want to partner with you!
The United Way of Coastal Carolina had its beginnings in the Coastal Carolina area in 1957. What started as just a fundraising organization many years ago, has developed into an organization focused on measurable, long-lasting results focused on the community's most compelling needs. Education, Income and Health are the three major areas of focus. Currently there are 21 funded programs serving individuals in Carteret, Craven, Jones and Pamlico Counties. Funds are raised locally to fund local programs. For more information visit www.unitedwaycoastalnc.org.
Submitted by: Tate Johnson, Resource Development and Marketing Coordinator, United Way of Coastal Carolina, Inc.