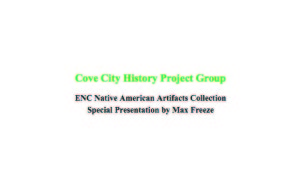 ENC Native American Artifacts Collection Special Presentation by Max Freeze
The Cove City History Project Group will host an "ENC Native American Artifacts Collection" special presentation by Mr. Max Freeze for their free monthly meeting on Thursday, May 21, 2015 at 7 p.m. at the Core Creek Free Will Baptist Church Fellowship Hall at 210 Trenton Rd, Cove City, NC 28523. Mr. Freeze is a former New Bern alderman and newsman who has been collecting Eastern North Carolina artifacts for many years.
Come and learn about the Native Americans, their artifacts, and this interesting time in Eastern North Carolina history.
After the Native Americans, the area that became Cove City was settled in the early 1700s by Europeans and there are different stories about how Cove City got its name. One version is that it was originally called Core City named for the Coree Indians who once lived in the area along Core Creek, and that the "r" looked like a "v" on a local sign and the government official put it in the records as Cove City.
Another version, from the "Craven County Heritage" book published in 1984, paraphrased, states that in 1840, the State of North Carolina passed a bill to build a railroad from Goldsboro to Beaufort harbor with one of the stations to be in the western part of Craven County. Different sources give various locations of the first Cove City area railroad station. About 1900, the railroad station and later the post office was moved to its current location near the David Brown's store area.
Cove City was first incorporated in 1905, but was discontinued. Its town charter was reactivated in 1957. However it received its name, Cove City has a rich, cultural heritage and continues to be a vibrant part of Craven County and Eastern North Carolina.
The Cove City History Project Group was organized in 2014 by Mrs. Eleanor Hawkins, Mr. Jim White, and others who have an interest in learning, documenting, preserving, and sharing Cove City's history. They are working on collecting information, stories, photos, and other items in order to write a history of the Cove City area. The group meets the third Thursday of each month. It is free and open to anyone who has an interest in Cove City history. Please bring anything that you would like to share with the group. They are setup to scan photos or documents that you have for free.
An additional old photo and document scanning event will be held on Saturday, June 6, 2015, 2015 from 9 a.m. to 1 p.m., at the Cove City-Craven County Public Library, 102 North Main Street, Cove City, NC 28523. This event is also free and open to the public.
The Cove City History Project Group looks forward to seeing you at these events. Please let your family and friends know and invite them to attend.
For more info, please contact, Jim White at 252-670-7179, via his Facebook page: https://www.facebook.com/Carolina71, or via his email.
Submitted by: David French, Family History Society of Eastern North Carolina