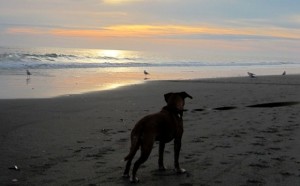 This is the time of the year when we are getting outside and re-starting an exercise regime. Yeah, for our dogs. They love it when we take them along. They get to catch up on all the "pee mail" left on mailboxes and see what is new in the neighborhood. They can tell you more about what is happening than you are aware of.
It makes me sad when I see someone walking alone when there are so many dogs that would love to be able to walk with you. If you have a neighbor that works or is not able to walk, ask if you can take their dog with you on your strolls through the neighborhood.  It is a win/win situation for everybody. Don't forget your poop bags. Any old bag will do.  It does not have to be a bag designed just for that purpose. When walking, don't space out wearing headphones or tuning out. This can be dangerous for you and your canine companion. Be on the lookout for speeding cars, off-leash dogs, squirrels and other potential hazards. Opting for a traditional dog leash instead of a retractable leash will also help you keep an eye on your pup.
Don't forget tick and flea meds. They can play havoc with both your dog and you.  Always be sure to check for ticks when you get back from your walk.
Here are 3 spring vegetables that are good for your dog. You might be surprised at how much they love these wonderful snacks – and they are much better for them than packaged doggie treats.
Green Beans – These crispy spring veggies contain omega-3, fatty acids, Vitamin A, Vitamin C, calcium, iron, potassium and beta carotene – all wrapped up in a tasty package. Canned green beans are also good to put in your dog's dinner if he or she has a weight problem. Just mix in a bunch. They are filling and the dog will eat less dog food. Be sure that it is the sodium free kind.
Spinach – Not all dogs are excited about spinach. Try adding some to their wet canned food. Spinach is known to ward off inflammatory and cardiovascular issues.
Asparagus – This healthy vegetable, packed with iron, potassium, fiber and vitamins makes a great substitute for store bought treats. I give my dogs the hard parts that I break off before cooking. I would throw this away anyway and my dogs love it.
I usually have a small container of bite sized veggies in the refrigerator just for treat time. Yum they love it.
This isn't a spring vegetable but my dogs also like the hard stalks of Broccoli. I cut it into about 1 inch pieces and they come running for their treat. Good for them and cheap.
Enjoy the spring weather. I hope to see you out walking your dog and enjoying the sunshine.
When you purchase your pet's treats, be sure that they are made in the USA and not China.  China has different standards than we do and can be very bad for your friend.
Submitted by: Bonnie Compton, Pals for Paws, 252-673-7387