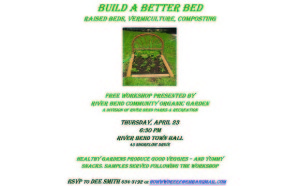 The River Bend Community Organic Garden presents a free workshop, Build a Better Bed: Raised Beds, Vermiculture and Composting on Thursday, April 23rd at 6:30 pm at River Bend Town Hall, 45 Shoreline Drive.
The three part program, presented by Master Gardeners Judi Lloyd, Connie Casey and Barbara Maurer will detail, through power point, the ease in which to build planting beds without the use of wood frames, present a live demonstration to construct a worm habitat and the use of the by-products as plant food from your worm farm, and will illustrate through a power point presentation how to the make your own nutrient rich soil to keep your beds healthy and productive without spending lots of money on expensive fertilizers.
All three presenters are deeply involved in community activities. Judi is President of the Craven County Master Gardeners Volunteer Association, Treasurer of the River Bend Garden Club, serves on the board of Clean Sweep, is a member of River Bend Community Organic Garden and writes a semi-monthly column on environmental issues for the Sun Journal. Connie Casey, a recipient of the the 2014 Martin Luther King, Jr. Community Service Award, is one of the founders and a current administrator for the River Bend Community Organic Garden where she logged almost 1,000 hours of volunteer time in 2014. She brings many years of experience as a gardener and researcher to this workshop. Barbara Maurer is also a long-time gardener and administrator in RBCOG. She serves on the River Bend Town Council, the board of Down East Folk Arts Society and is Secretary of  an owner-operated beach community in Emerald Isle.
Following the forum, refreshments will be served to demonstrate that healthy food can taste delicious.
RSVP preferred. Contact Dee Smith at 634-3192.
Submitted by: Constance Casey