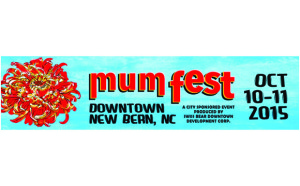 Swiss Bear Downtown Development Corporation is pleased to announce that Governor Pat McCrory has issued a special Proclamation declaring MUMFEST "a proud North Carolina tradition which attracts visitors to the colonial capital city to enjoy entertainment, a street fair and riverfront attractions."
The City of New Bern's Mayor Dana Outlaw has also issued a Proclamation declaring MUMFEST "one of the finest award-winning festivals in the state." It goes on to say that, "MUMFEST supports cultural diversity, the arts, commercial and nonprofit communities in eastern North Carolina."
The Craven County Commissioners were not to be outdone and have issued a Proclamation, which states, "MUMFEST has contributed greatly in promoting our growing tourism industry, while encouraging visitors to explore all the wonderful possibilities that eastern North Carolina has to offer."
Going along with all the exciting recognition MUMFEST has received, there is a beautiful new logo, which has been created by local artist and designer, Lisa Bisbee.
MUMFEST 35 – is bringing in several new entertainment venues and, of course, the old favorites will be back. We can promise that Mumfesters will not be disappointed when they experience a much bigger festival this October.
MUMFEST weekend in New Bern, NC attracts festival goers from across the southeast to experience this award winning festival located in the beautifully restored historic downtown along the waterfront. The award winning downtown is filled with many unique and family owned shops that make shopping a pleasure. Mumfesters can spend a little or spend a lot with over 300 commercial and nonprofit exhibitors to choose from including pottery, crafts, art, and a tasty variety of savory food.
MUMFEST fits everyone's budget with two days of free entertainment including a wide variety of music from a variety of new and exciting bands, dance troupes, magicians, roving street performers, face painters, and clowns.
Start making plans now to come to MUMFEST and check frequently on the MUMFEST web site to learn all about this year's festival:  www.mumfest.com. Follow us on Instagram, Facebook and Twitter.
The beautifully restored downtown and riverfront, unique shops, art galleries, restaurants and historic homes make New Bern a destination for many travelers. Shopping and dining in the historic downtown is a true pleasure. To learn more about MUMFEST and Swiss Bear Downtown Development Corporation visit: downtownnewbern.com or mumfest.com.
Submitted by: Nancy Hawley