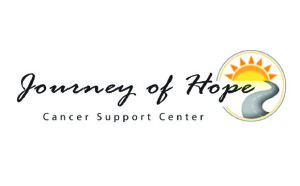 By R. Klawson
There are over 100 different kinds of cancer. The "C" word itself will easily invoke concern and emotion. We are all aware of the importance for early detection and prompt treatment. But beyond the surgery, radiation and chemo many will have to deal with an uncertain future despite many advances in treatment. Family and friends are a necessity. Also Journey of Hope is available to provide needed professional support to the patient at no cost. Their motto "Providing resources for the mind, body and spirit" exemplifies their mission and what they strive to accomplish.
The Foundation offers one-on-one peer support groups plus survivorship programs as well as financial consulting and support in the form of gas and grocery cards. Other free resources are art and massage therapy, educational programs, exercise and mediation assistance. The JOH is 100% volunteer based and all donations go directly to patients. Whether you are under treatment or beyond, the "Fit Forever" exercise class takes place every Saturday at Courts Plus in New Bern from 10:30 to 11:30. Sign up (633-4673) is required to ensure your space. Again this is a no fee program.
Journey of Hope is the cancer arm of the CCHC Foundation. Call 633-HOPE (4673) or email cchcjourneyofhope@gmail.com to donate. Or you can participate in one of their fund raising events. Upcoming is a mixed doubles tennis round robin on Saturday, April 25th, at the Harbour Town Racquet Club. Entry fee is $15.00 and it includes lunch. You can enter as a team or you will be assigned a partner. The ages of each doubles team are added together and you are placed in a bracket based on the total. You then compete only against teams in your bracket. Entry forms are available at Harbour Town Racquet Club or contact Mike See at 252-636-5652.
Another unique way to support the Foundation is for the patient, family or friends to paint a message on a 4×4 wall tile and have it displayed at the New Bern Cancer Care Center. They can be purchased at the Center for $20.00. You then go to the Accidental Artist for painting and glazing which is included in the price, a generous portion of the purchase is a donation to the Journey of Hope.
If you are a patient or survivor it is easy to avail yourself of the JOH services. You may be referred by your physician or you can individually seek out their help. Remember everything they do is no charge and it is done by a staff of professional care givers.
Submitted by: Kathy Rioux, Harbour Town Racquet Club Secretary