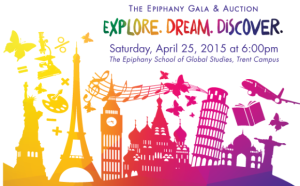 The Epiphany School of Global Studies' Annual Gala and Auction is Saturday, April 25th. This year's event will take place on the Trent Campus and will feature a delicious dinner, live music, dancing and silent and live auctions. It is a signature Epiphany event that you will not want to miss.
The annual Gala and Auction is Epiphany's largest fund-raising event of the year, with over 600 guests in attendance. Proceeds from the Gala and Auction directly support the school's Annual Fund, as well as scholarship while celebrating our school and providing for our most precious assets – our students.
All are welcome! Visit EpiphanyGala.com to purchase tickets, reserve a premium table, become a sponsor or donate items to the auction. Your support of the Gala and Auction is an expression of your belief in the school's mission and your commitment to support each student in uncovering their gifts for the journey.
Join us for Dinner, Dancing and Silent & Live Auctions
When: Saturday, April 25, 2015 at 6:00pm
Where: The Epiphany School of Global Studies Trent Campus
Food: Dinner by Chef Gerry Fong from Craven' Catering
Entertainment: Music by the (919)
Dress: Cocktail attire
Ticket Price: $65 per ticket*
Premium Table: $1,000 for a premium reserved table**
*$65 Ticket Price through April 13 and $75 after April14.
**Premium Table includes eight tickets, seating for eight, two reserved parking spaces, a promotional sign at the table, and wine on the table.
Contact Rhonda Bernthal, Director of Advancement via email for more information.
Submitted by: Rhonda Bernthal, Epiphany School of Global Studies