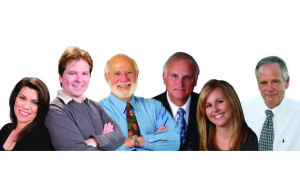 CTV10 – Craven County's Community Television Station is pleased to announce a new morning show – All About Craven.
CTV10 launched All About Craven, a new morning show on March 2. The morning show is live and will air 8-9am, five mornings a week – Monday through Friday on Suddenlink Cable Channel 10. Encore performances will run each day at 5pm and 11pm. All About Craven is a local talk show discussing Craven County events, businesses, medical updates and educational matters.
Monday and Tuesday will feature co-host Angelina Doyle and Keith Boyd focusing on arts and entertainment. Their cheerful banter will cover events and happenings in the Craven County area. Angelina Doyle is a former Marine and now the Executive Director for New Bern Civic Theatre. Though not native to New Bern, Angelina has found her home here and is dedicated to promoting Craven County as a place that anyone, young and young at heart, can be proud of. Keith Boyd, a native of New Bern, is an FHA-certified residential real estate appraiser.  He is also heavily involved in New Bern Civic Theatre where he wears a multitude of hats – NBCT board member, archivist, videographer, director, and actor.
Wednesday's host is Carr Ipock. Carr's show focuses on education, schools and the pertinent information relating to education in Craven County. Carr Ipock, also New Bern native, has been on the Craven County Board of Education from 1992 to present. Carr began his term as Chairman in 1994 to present.
On Thursdays, the All About Craven Morning Show features a medical segment with Valerie and Rod Phillips. Valerie and Rod own and operate Seniors Choosing to Live at Home. They provide an alternative to assisted living centers by providing assisting services to senior citizens in their own home. Valerie and Rod interview guests from the Craven County medical community. Their guests enlighten viewers to new, innovative medical techniques and promote the health and wellbeing of Craven County residents.
Fridays will feature Steve Tyson; his venue will spotlight government and business news. Steve is a native of New Bern and a self-employed small businessman. He has served as a County Commissioner for 8 years and is currently serving as the Chairman of the Craven County Board of Commissioner and Chairman of the New Bern Area Metropolitan Planning Organization.
The All About Craven Morning Show offers a diverse and wide variety of topics that interest Craven County residents.  For more information of upcoming guest visit www.allaboutcraven.com. Shows are streamed live on the website for viewers that do not have Suddenlink Cable services. Call-ins are encouraged. This is the community TV where local input is valued and there are often giveaways to first callers.
Otis Tutt, owner of CTV10, will serve as Executive Producer, Bob Register will serve as Producer and Gayle Albertini will serve as Administrative Producer. The show will broadcast live from the CTV10 studio at 1308 South Glenburnie Blvd in New Bern.
"I'm excited to launch a morning show to serve the Craven County area that will provide community information while promoting local businesses, events and services," Tutt said. "We are excited to present this dynamic blend of hosts that will showcase the talent that lives and works in our area. We believe this fresh approach with new voices and faces will be a welcome addition to local television," Tutt continued.
The staff and crew of CTV 10 are excited about All About Craven – a show that everyone can participate in. We are looking forward to local guests, on-air promotions, giveaways and viewer participation. For more information on the upcoming shows and guests or to book a guest, please visit www.allaboutcraven.com. To call in, dial 252-633-2544.
For sponsorship or information, please call Otis Tutt at (252) 633-2544.
Submitted by: Gayle Albertini, Gayleforce Design