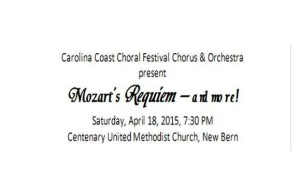 When the Carolina Coast Choral Festival is in concert on April 18, the brilliance of Mozart will resound in historic Centenary United Methodist Church with the performance of his final work, Requiem in D Minor.
Coming together for the 7:30 performance will be 75 singers from eastern North Carolina, Illinois and Colorado and 25 eastern NC orchestral musicians under acclaimed conductor, Dr. Robert A. Harris, Professor/Director Emeritus of Choral Organizations at Northwestern University. New Bernian, Rachel Harmatuk Pino, teacher and performer throughout the Carolinas, is concertmaster. The four Requiem soloists all have roots in eastern NC: Christina Bartholomew, soprano, calls Havelock home, and is an East Carolina University graduate; Jami Rhodes, alto, a Beulaville native, is a professor of voice at ECU; Bill Ward,tenor, native New Bern attorney, is well known for his solo work in the area; and Lewis Moore, bass, has served in several musical capacities in New Bern.
However, this masterpiece and these well-rehearsed musicians are not the only items on the program. The first section of the concert will feature cameo presentations by Celebrations Brass – Pat and Katherine Dougherty, trumpeters, who recently moved to New Bern from Long Island, NY; Rachel Pino, and Elizabeth Ivy from Greenville, duo violinists; Ayumi Nakamae, soprano, a native of Japan, now chair of the music department at Coastal Carolina Community College; and the Festival Chorus singing Mozart's beloved "Ave Verum Corpus".
For April 18, tickets are available for a 3 p.m. dress rehearsal for the Requiem only, and for the 7:30 p.m. concert with the additional performers. Both presentations will be at Centenary United Methodist Church, corner of Middle and New streets in New Bern. The $15 dress rehearsal tickets and $25 concert tickets will be available with cash, check or card through Saturday at Bank of the Arts, 317 Middle St., 252-638-2577; and pending availability, for Will-Call reservations at 252-244-3721, and on Saturday, the 18th at Centenary Church main entrance from 2:00 on with cash or check.
Submitted by: Cheryl Arthur Kite