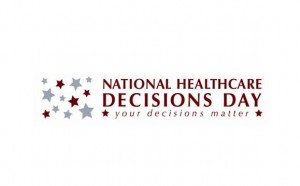 Most people need help with organization in small and large ways. This can mean the organization of stuff in cabinets, closets, and garages or the organization of important paperwork. Having advance directives completed and properly secured and stored is part of the process. This helps to ensure others can care for you, as you would like, should you not be able to make decisions.
April 16th marks the 8th Annual National Healthcare Decisions Day (NHDD). This movement is one of several which is taking on the issue of advance directive completion through community education. All adults, regardless of age, need to have advance directives (healthcare power of attorney and living will), but few people do. It is important that we all accept responsibility for our health and our actions and not leave such important decisions to others, especially if they don't know our wishes. That is a tremendous burden to pass on when instead you can share a real gift.
When you think about all the important documents we need in life, do you have them organized and accessible to others in your family? Would your partner know what you want done if you were unable to communicate your wishes? Is it written out clearly, has it been discussed, and have you shared it?
People do not like to think about end of life, but the reality is that we all will be there one day. I encourage you to complete your documents and share the information with your family, friends, and clients. If you would like more information about National Healthcare Decisions Day, how to gather, organize, and maintain your documents, or about how to have this conversation with your loved ones, please visit www.nhdd.org and Structured Chaos at www.structuredchaos.biz.
Also, this week on All About Craven on C-TV10, I will be discussing National Healthcare Decisions Day with Valerie Phillips. Watch this Thursday morning to learn more!
Submitted by: Tanya Roberts, Structured Chaos