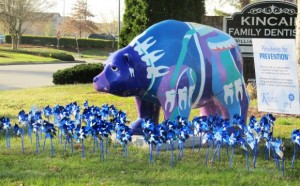 The Community Coalition for Craven County Children (C5) would like you to plant a Pinwheel garden this April. You can purchase a case of pinwheels in advance for $30.00 (there are 48 to a case). We will be taking orders from now until the end of February. If you are unable to plant a garden you can display these in your establishment to show support or pass them out to your friends, associates or customers. We want to paint the town Blue in April!
We are also selling Prevent Child Abuse yard signs. The yard signs are $12.00 and reusable year after year. They can also be displayed in a window.
Home Kits are available for $24 and include 24 pinwheels and a 14"x14" lawn sign.
If we can get the awareness out and help one child that is a start. The funds raised by these sales will go toward helping C5 in our effort to raise awareness about child abuse through parenting cafes, family oriented events, and to assist with community education on this issue. We are a diverse group of individuals who meet on a monthly basis to work towards ensuring that every child in Craven County has a safe, healthy and caring environment where each one can reach his or her full potential through strong families and a supportive community.
Please contact Essie Mallison at 252-636-6472 if you would like to purchase a sign or pinwheels. Contact Cheryl Reed at 252-288-6572 if you would like more information about the Coalition.
Submitted by: Terry Brubaker, Community Coalition for Craven County Children (C5)