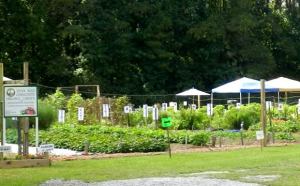 The River Bend Community Organic Garden presents a free Roundtable for Gardeners on Thursday, March 26th at 6:30 pm at River Bend Town Hall. Attend a forum where you can bring your gardening questions, issues and tips. If you have struggled with temperamental tomatoes, watched your summer squash wilt, or lost your melons to powdery mildew, this roundtable will help you find practical solutions to your most vexing vegetable garden troubles. Postponed from an earlier date due to winter weather, this is the place to discuss your garden problems, share ideas and give each other inspiration.
Local experts who will facilitate in finding solutions are  Tim Minch, Grounds Coordinator at Lenoir County Community College and former Greenhouse Manager at Tryon Palace gardens who will share tips and thoughts gleaned from a lifetime of experience; Master Gardener Audrey Kress Williams, member of the Cropmaster's demonstration garden at the NC Cooperative Extension office and other local community gardens, who will offer new knowledge gained from her recent farm internship at The Many Hands Peace Farm at The Mountain in western North Carolina; and Sheila Weibert, Master Gardener and coordinator of the Food Bank vegetable garden and volunteer at local community gardens who has been growing vegetables since she was a child on her family's farm. Sheila has done presentations on vegetable gardening, soil management, and other topics for local community groups.
Following the forum, refreshments will be served to demonstrate that healthy food can taste delicious.
RSVP preferred. Contact Dee Smith at 252-634-3192.