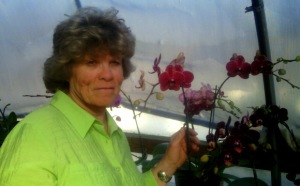 The speaker for the February 3 Coastal Women's Forum (CWF) dinner meeting will be Wendy Graveman co-owner of Pinecone Perennials in New Bern. Wendy will offer tips to turn brown thumbs green whether they are planting plots or pots. She will also be offering advice on landscaping with native species that should thrive in our coastal environment.
Wendy and her husband Rob relocated from New Jersey in 2000 and started their garden center in New Bern from scratch. They have 7 acres of greenhouses at their home in the county and grow all of their annuals, perennials, and vegetables that they sell at Pinecone Perennials. Rob focuses on growing and Wendy uses her artistic eye to manage the retail side of the business.
This year, Pinecone Perennials will feature a newly added Home & Garden Shop with indoor and outdoor furniture, décor items, and, of course, plants. Right now the shop is bursting with pots of colorful orchids to chase away the winter blues. Wendy notes that she has 1200 orchids at her home and would easily claim the title of "Orchid Lover."
You can get a dose of spring by attending the CWF Dinner, Tuesday, February 3 at 6 p.m. at the Chelsea.
To register by noon on Monday go to coastalwomensforum.com/events.
Submitted by: Jane Maulucci, The Reactive Voice