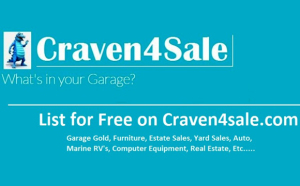 I've heard friends talk about Craven4Sale's website. I didn't realize how important it was to our community until I researched and spoke with people who used it. The saying "One's mans trash is another man's treasure" rings true as you never know what you'll find on Craven4Sale. Not that you'll find trash, but you may find some very interesting items that the previous owner didn't realize the worth.
Phil Imhof's created this unique and local website to help people share their family heirlooms, valuable items, or practical things.
Phil is very passionate about his efforts as this is a free public website. Phil states, "It started out as a Yahoo email group called FH4sale. I wanted to have a venue to sell some of my things in Fairfield Harbour and thought others in the neighborhood might have a similar interest. Interest grew in the Harbour and also in the surrounding areas. I decided to allow others from outside the Harbour to post ads for items left sitting and collecting dust in their garages and other out of the way area. I renamed it craven4sale. Jean Huebner actually came up with the name. It stayed that way for 2-3 years. I decided recently, that it might be a better idea if it were a regular website similar to Craigslist and others. It is now available to all in Craven County and other nearby counties."
We encourage people to visit Craven4Sale's website vs. Craig's list or other classified postings as this website is owned and operated by someone who wants to make a difference in our community.
Phil Imhof worked for the US Postal Service for 37 years. "I spent most of my time in Information Systems on Long Island NY. There I spend most of my time in the field of software programming."
Phil's goal is to provide a means to sell items that have a habit of collecting around the home and maybe make a little to buy something else.
Get rid of the clutter and make money! All you have to do is add your product to the website.
Visit Craven4Sale.com as "It is very easy. You have to first establish a username and password by filling in an on-line form. Once it's approved, the user is notified and is made aware of the process to post an ad. It is very simple. Phil can do one for you, "so you can see for yourself. You merely click on a button that says POST, and you fill in the blanks, and hopefully add a couple of pictures."
Phil states, "People can receive notifications for each post or just go to the website to see what's new. If they want a certain item they have to contact the seller by either phone, email, text, or the internal seller contact form."
For more information, visit Craven4Sale.com or call 252-288-8700.
Tell us what you think by commenting below or sending us an email. Visit New Bern Now's Facebook page or sign up for the latest updates by submitting your email address in the right margin on New Bern Now's website.
Wendy Card