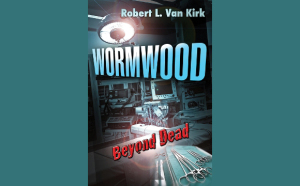 Robert L. Van Kirk, local author of the humorous Wormwood crime novels, and Keith Boyd, local videographer with numerous video/stage credits, invite you to join them for an hour of fun as they talk about their work and collaboration. Books will be available for purchase and signing.
Saturday, January 10, from 2 – 3pm
Fine Art at Baxters Gallery, 323 Pollock Street, New Bern
Come early, stay late, and check out the wonderful art for sale throughout the gallery.
Note: The owners of Fine Art at Baxters Gallery disavow the content of this program and will most likely be in hiding that day.
Biographical Information:
Robert L. Van Kirk is a retired investment industry executive who lives in New Bern. He is the author of Wormwood High Crimes and a Bunch of Misdemeanors and Wormwood Beyond Dead. When asked about the most important artistic influences on his life, he is quick to reply, "The Marx Brothers, Woody Allen in his early years, Will Ferrell, Dave Barry, and Carl Hiaasen. Oh yeah, and Shakespeare, Tolstoy, and Thomas Wolfe too."
Keith Boyd is a certified residential FHA appraiser with a deep passion for the arts. He has produced and edited numerous video products, including music and promotional videos. He is a board director and active member of the New Bern Civic Theater. When asked about the most important influences on his life, Keith always replies, "Jackie Chan, Ronald McDonald, and the Carter administration.
Submitted by: Keith Boyd