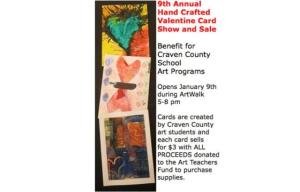 Carolina Creations Fine Art and Contemporary Craft Gallery announces their Ninth Annual Valentine Card Show and Sale Fundraiser. The Show and Sale opens during ArtWalk on January 9th from 5 until 8 pm and runs through February 14.
Each year Art Students (K-12) from Craven County Schools create cards with original artwork, representing a wide range of thought, style, and expression along with a wide variety of materials, including hand-made paper, oil, pastel, collage, watercolor and ink.
The cards are $3 each and ALL proceeds are donated to the Craven County Schools Art Program.
Each year we're excited to see what the classes have come up with. They often study a particular artist then do work that is inspired by that artist.
For more information visit Carolina Creations at 317 Pollock St., call 252-633-4369 or check out their website.
Submitted by: Janet Francoeur, Carolina Creations