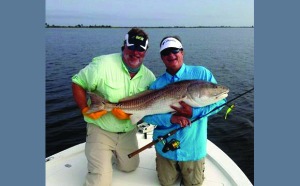 Just sending out a reminder that my TV shoot with George Poveromo will air on January 7th at 2pm on NBC Sports Network. George and I are fishing for giant red drum (redfish) on the Neuse River near Oriental, NC using a popping cork technique I pioneered here. Tune in and/or set your DVR's.
The show will re-air on NBC Sports April 1 and May 24. It will also air on WFN January 17th at 11am, 8pm and 12:30am and again on January 21 and 22.
My shoot "Popping Cork Drum" will also re-air January 10 at 5pm and the 11th at 11am on UNC-TV across North Carolina (some SC and VA coverage). If you are unable to tune into UNC-TV you can watch the episode online here.
If you are interested in a trip catching these monsters contact me soon. I am booking dates.  The best of the fishing is from late July into early October. I run long half and full days and also catch this fish on the fly with my PopN Fly rig.
Submitted by: Capt. Gary Dubiel, Spec Fever Guide Service, 252-249-1520