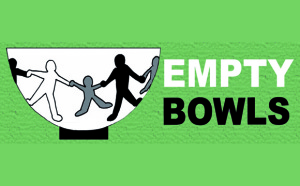 February 19, 11am – 2pm
Temple Baptist Church
Empty Bowls is a nationwide program to help those in need; in New Bern, it's a joint effort of Religious Community Services and the Craven Arts Council & Gallery.  This uplifting event unites businesses, religious and civic groups, professional and amateur potters, restaurants, and others, as we use our collective creative energies to make a difference in the lives of others.
Empty Bowls brings the Arts community, the needs of our community and local businesses together for the joint purpose of bringing awareness to the plight of hunger in our community. Join one of the biggest events of the year and make a difference!
With the purchase a ticket to Empty Bowls for $25, you are served your choice of two bowls of soup, provided by many of our local restaurants and churches, along with bread and drink, and enjoy live entertainment.  As a bonus, you get to choose a bowl – handmade by a local potter – to take home.  It's fun.  It's festive.  And the results are fantastic
Thanks to our sponsors, soup providers, volunteers, and the community, we raised $22,000 in 2014.  This was a huge success on several fronts:  creating greater awareness of those in need; uniting various community resources; providing outright assistance in the form of food, fuel vouchers, and pharmacy prescriptions; and supporting the arts in Craven County.
This year we have added an exciting new element for those who want to be a part of this wonderful event, but don't have time to do so the traditional way. Try our new curbside service. If you have purchased your ticket in advance, you can drive right up and one of our volunteers will give you a preselected bowl and two bowls of preselected soups – a veggie and a meat based. This will get you out in a flash and you will still be taking home a cool bowl and some yummy hot soup! But remember, advance tickets only, so get by Fuller Music or the Bank of the Arts and get yours now!
Join us!  Make a difference!
For more information, call the Craven Arts Council and Gallery at 638-2577.
Times can be tough! Hunger is tougher!
Submitted by: Lori Favre on behalf of the Empty Bowls Committee